As an experienced dropshipper, you know that it can be challenging to get the best prices for your products from suppliers.
Multiple factors come into play when negotiating a good price such as quality of product, terms of payment and volume of orders. While working with reliable suppliers is key to getting a great deal, there are more strategies you need in order to take things up a notch.
In this 1,500 word article we'll dive deep into some tips and tactics you could use to secure better pricing for your website or store stock.
We'll cover how preparation before negotiations is key – what questions you should ask yourself and what research needs to done ahead of time – as well as communication tricks like how clear language & bargaining correctly can help lower costs while still making sure everyone's interests are served satisfactorily so that both parties win in the negotiation process.
Negotiate Long-Term Deals
When it comes to securing the best pricing and terms from your suppliers, negotiating long-term deals is a smart move.
By committing to working together for an extended period of time, you can establish a relationship built on trust and mutual benefit.
Plus, your supplier will be more willing to offer you perks like discounts, faster turnaround times, and access to new products or services. By taking the time to negotiate a long-term deal, you'll not only save yourself money and hassle in the long run, but you'll also set your business up for success.
Research Your Market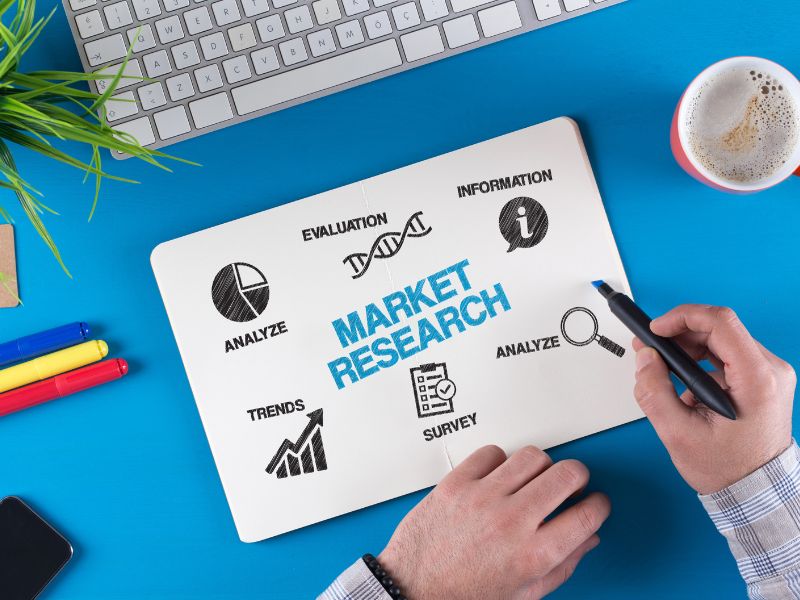 Doing thorough research on the market will give you an idea of what the average cost is for certain products or services, which will help you to know if you are getting a good deal.
When it comes to starting a business or launching a new product, it's essential to have a clear understanding of the market. That's where research comes in.
By taking the time to investigate the industry and get a feel for what's out there, you can gain valuable insight into the average prices for certain products or services.
Armed with this information, you'll be better equipped to make informed decisions about your own pricing strategy and ensure that you're offering a competitive deal for your customers.
So, whether you're a seasoned entrepreneur or just starting out, investing in market research is a vital step in setting yourself up for success.
Take Advantage of Quantity Discounts
We all love a good deal, and when it comes to buying in bulk, suppliers are often happy to reward us. Quantity discounts can make a major difference in the cost of your purchase, and it's worth taking advantage of them whenever possible.
Whether you're stocking up for a party or simply restocking your pantry, buying in larger quantities can lead to some serious savings. And it's not just limited to groceries and household items – many retailers offer discounts for high-volume purchases of everything from office supplies to clothing.
So don't be shy – next time you need to stock up on something, consider buying in bulk and see how much you can save!
How Shipbear Can Help With Low MOQs
Alternatively, you can work with us and get away with LOW MOQs
ShipBear can offer you the opportunity to start your business without having to worry about buying in bulk. We provide lower MOQs, with no minimum order quantity for most of our products.
This means that you don't have to commit to large minimum orders in order to get the best price on items – instead, you can buy as much or as little as you need. Plus, our low MOQs also mean that you can try new products without risking too much of your budget.
So don't let the prospect of high minimum orders scare you away from stocking up on essential items – with ShipBear, you'll be able to get the best prices on everything you need without having to commit to large quantities.
Find Multiple Vendors
In today's world where every dollar counts, having multiple vendors compete for your business is a major advantage.
Not only does it give you options, but it also gives you more leverage when it comes to negotiating prices. This is particularly important for businesses that rely on vendors for supplies or services.
With a range of vendors to choose from, you can compare prices, quality, and reliability before making a decision. In the end, this can lead to significant cost savings, enabling you to reinvest in your business and achieve growth.
So, if you haven't yet explored multiple vendor options, now is the time to take advantage of this valuable strategy.
How Shipbear Can Help Consolidate Quotes From Multiple Vendors
As a ShipBear customer, you can access discounted cost from multiple vendors and have them consolidated in one purchase order.
ShipBear is connected with a network of reliable suppliers which allows us to offer competitive prices on the products you need. With our Consolidated Quotes program, we'll help you get quotes from multiple vendors so that you can decide which one offers the best deal.
Plus, we can help streamline the entire process and ensure that all orders are placed in a timely manner. So don't waste any more time – let us help you find the best prices for your business today!
Ready to get started? Reach out to our team and see how ShipBear can help.
Ask for Referrals
As a business owner, finding ways to save money is always a priority. That's why it's a good idea to talk to other businesses that are similar to yours and see if they have any tips or contacts that could help you save on supplier costs.
By asking for referrals, you may be able to get better pricing on the products or services you need to keep your business running smoothly.
Plus, forming connections with other businesses in your industry can lead to valuable partnerships and collaborations down the line. Don't be afraid to reach out and start the conversation – you never know what kind of opportunities may arise!
Reevaluate Your Supply Chain Management
In today's fast-paced business environment, having a well-oiled supply chain is essential to staying competitive.
By taking a closer look at your supply chain management process, you can identify areas that are causing unnecessary expenses and streamline them.
For example, implementing different shipping methods can reduce costs while expedite delivery times.
Another option would be automating certain tasks to free up time and resources for more critical activities. By reevaluating your supply chain management, you can find ways to cut costs, increase efficiency, and ultimately boost your bottom line.
How Shipbear Can Help With Your Supply Chain and Logistics
At Shipbear, we understand the importance of finding ways to save money on your supply chain.
That's why we offer comprehensive logistics solutions designed to streamline your operations and help you reduce costs. With our cutting-edge technology and expert support team, you can count on us for everything from freight forwarding to customs clearance.
Plus, our integrated platform allows you to manage your entire supply chain from one place, giving you full visibility and control over your shipments.
Takeaways
Securing better pricing for your suppliers can make a huge difference to your business's bottom line. By taking advantage of quantity discounts, finding multiple vendors and negotiating prices, asking for referrals, and reevaluating your supply chain management process, you can reduce costs while still ensuring that your products are of the highest quality.
For the best in logistics solutions and cost savings, let ShipBear help.
Ultimately, Shipbear is the best dropshipping partner for businesses looking for better pricing from their suppliers. By providing fast and secure deliveries, Shipbear ensures that goods are delivered on time and without problems.
Furthermore, with deep supplier relationships, Shipbear is better positioned to negotiate exclusive pricing and superior service levels than any other direct-to-customer provider.
With Shipbear at the helm, you can rest assured your business will be rewarded with more profitable return on investment (ROI).
Even if you're just starting out in ecommerce and trying to keep your costs low, Shipbear can be a powerful asset in your journey towards higher profits.
Now that you know the tips for securing better pricing from your suppliers, it's time to take action! Sign up today with Shipbear for a FREE QUOTE and see how taking control of your supply chain could transform the way you do business!