Dropshipping has become a popular way for entrepreneurs to break into the ecommerce world, but it often gets a bad rap.
People have their own preconceived notions about why dropshipping can be risky – and therefore they haven't looked deeper into the nuances that make this business model attractive for so many.
In this blog post, we'll explore why does dropshipping get a bad reputation – and more importantly, what we can do to combat those negative perceptions.
The history of dropshipping and how it works
Did you know that dropshipping has been around for over a century?
In the late 1800s, Sears Roebuck and Co. used dropshipping to sell goods directly to customers without holding inventory.
Fast forward to today and dropshipping has become a popular way for entrepreneurs to start their own online business without the burden of managing storage and shipping logistics. 
So how does it work?
Basically, a retailer partners with a supplier who ships products directly to customers on behalf of the retailer.
The retailer never actually handles the products, but simply serves as the middleman between the supplier and customer.
It may sound too good to be true, but with the right strategy and execution, dropshipping can be a profitable and scalable business model.
Common misconceptions about dropshipping
"Dropshipping" has become quite the buzzword in recent years, with people all over the world turning to this business model as a way to make money online.
However, despite its growing popularity, there are still a lot of misconceptions floating around about dropshipping.
For example, some people assume that dropshipping means buying cheap products from China and selling them at a huge markup.
Others believe that it's a get-rich-quick scheme that requires no effort or investment.
But the truth is, while dropshipping can be a profitable venture, it also requires a lot of hard work, dedication, and careful planning.
There's no one-size-fits-all formula for success, and if you want to thrive in the dropshipping world, you'll need to be prepared to put in the time and effort it takes to build a successful business.
How to tell the difference between good and bad dropshipping companies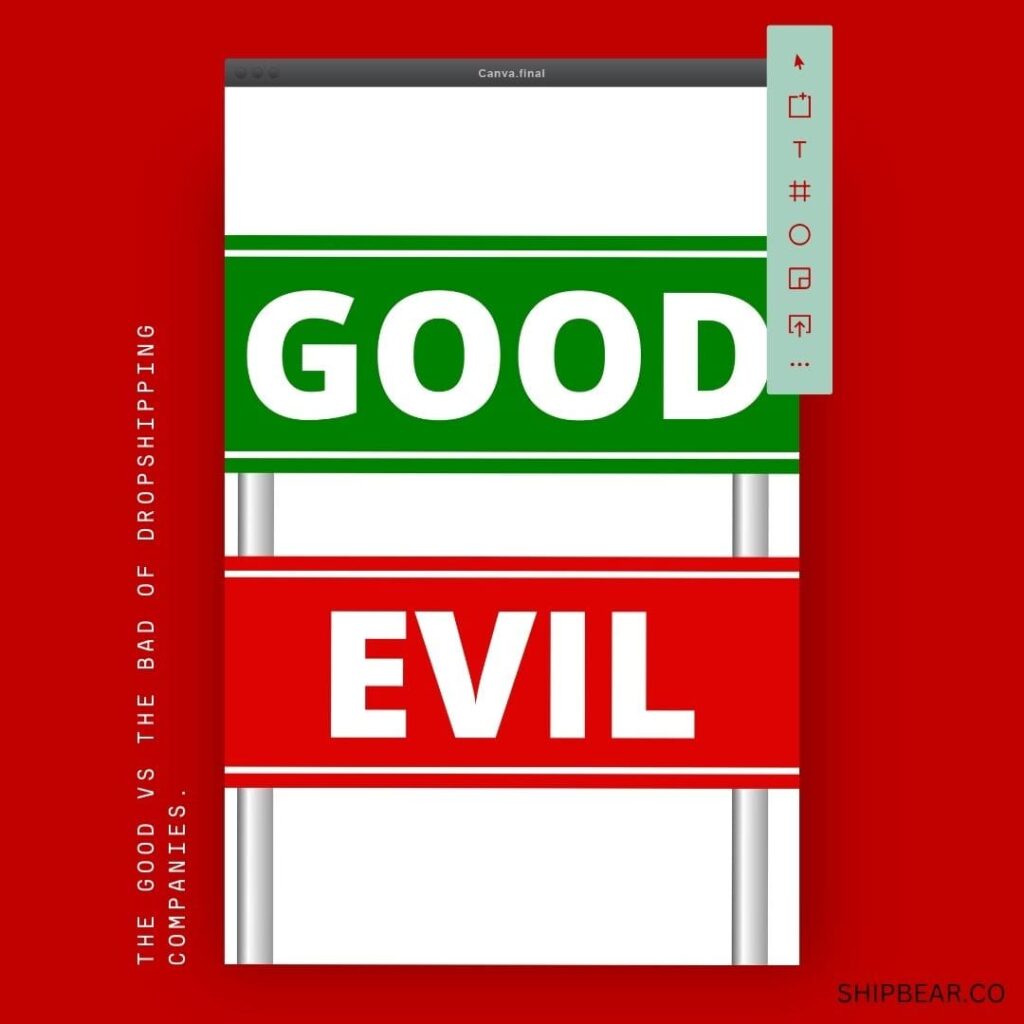 Dropshipping can be a great way to make money without the hassle of managing inventory and shipping products yourself.
However, not all dropshipping companies are created equal. It's important to know how to tell the difference between a good dropshipping company and a bad one.
A reputable dropshipper will have clear policies, responsive customer service, and a solid reputation.
A bad dropshipper may have hidden fees, slow shipping times, or low-quality products. So, how can you tell the difference?
Do your research, read reviews from other customers, and don't be afraid to ask questions before you sign on with any dropshipping company.
By taking the time to investigate your options, you'll be able to find the right dropshipping partner that will help you grow your business and your profits.
What to look out for when choosing a dropshipping partner
When it comes to dropshipping businesses, there are a few key factors to keep in mind before diving in headfirst.
First and foremost, make sure you research the supplier to ensure they have a solid reputation and quality products. 
Additionally, consider how much control you will have over the branding and customer experience, as you want to make sure you're able to provide a cohesive and trustworthy shopping experience for your customers.
And don't forget the financial aspect – make sure you understand the costs and fees involved, as well as the potential profit margins.
By taking these factors into consideration, you'll be on the right track to choosing a successful dropshipping business.
The advantages of using a reliable dropshipping provider
One of the challenges you'll face is finding a supplier that you can trust. That's where dropshipping comes in – a business model where you don't have to hold any inventory.
Sounds too good to be true? Well, it's not.
With a reliable dropshipping provider like Shipbear, you can run your online store without worrying about shipping, storage, or fulfillment.
Plus, you can save time and money by not having to buy products in bulk.
Dropshipping is a cost-effective and convenient way to get started and maintain, and with the right provider, your business can be up and running in no time.
Top tips for avoiding scams in the dropshipping industry
When you're just starting out in the dropshipping industry, it can be a bit overwhelming to discern the scams from the legitimate opportunities.
But don't worry, with a bit of knowledge and common sense, you can avoid falling for any traps.
Always research the supplier thoroughly
Look for reviews from other sellers, check their website for spelling and grammar errors, and see if they have a physical address and contact information.
Be wary of any supplier that asks for a large upfront fee or monthly subscription
A reputable supplier should only charge a small fee per order or have a commission-based system.
We at Shipbear enable our clients to avail of low MOQs and affordable balance maintenance plans.
Trust your gut
If something seems too good to be true, it probably is.
Trustworthy suppliers won't promise overnight success or unreasonable profits.
Follow these tips, and you'll be on your way to a successful dropshipping experience!
Takeaways
Dropshipping can be an amazing and beneficial business model for entrepreneurs who are just starting out, but there are some pitfalls to watch out for.
You should always carefully research each company you're considering working with, and look for any reported issues or complaints.
Pay special attention to customer service policies and refund policies before investing any money in the dropshipping process.
Work only with a reliable provider that has proven itself trustworthy over time.
Keep in mind these tips when deciding which dropshipper is the best fit for your business, and make sure you take advantage of the many advantages it offers, such as lower upfront costs, increased efficiency, more flexibility with pricing structures, instant availability of items and greater scalability.
Make sure to do your due diligence before signing on with a supplier- don't get scammed! 
Don't let horror stories about dropshippers give you pause; instead benefit from all of its benefits and set yourself up for success!