Today, dropshipping is one of the most popular online businesses out there. It's no surprise why people are drawn to this type of business model – it requires minimal investment and has the potential to bring in some nice earnings.
But setting up a dropshipping store is only the beginning; after that, you need to figure out how to promote it in order to generate sales.
Fortunately, with some creativity and know-how, you can do so without having to break your bank account!
In this blog post, we're going to explore all of the best [almost!) free methods for promoting your dropshipping store and provide examples from successful entrepreneurs who have mastered these methods.
So get ready – let's get started on our journey into promoting a dropshipping store for free!
Leverage Social Media
Create accounts for your store on the major social media platforms and start building an audience by posting engaging content regularly.
Utilize visual media such as product images and videos to capture the attention of potential customers. There are free photo and video editing tools available online, such as Canva and InShot, that can help you create professional-looking content without breaking the bank.
Engage with your followers by responding to comments and messages promptly. This will not only build a relationship with potential customers but also increase the chances of them sharing your content with their own network.
Collaborate with Influencers
You can also collaborate with influencers or run social media ads to reach a larger audience.
Take the time to research and find influencers that align with your brand and have a significant following in your target market. You can reach out to them and offer free products or a commission for promoting your store.
Have you ever heard the saying, "It's not what you know, it's who you know?" Well, that couldn't be more true when it comes to growing your audience and increasing your reach.
That's where influencers come in – those social media stars who have built up a loyal following of people who trust their opinions and recommendations. But how can you reach out to influencers and get them to collaborate with you?
It's all about finding people whose audience overlaps with yours and starting a conversation. By building a relationship and finding common ground, you may be able to tap into an entirely new group of potential customers.
So don't be afraid to put yourself out there and start reaching out to those influential people in your industry. Who knows – it could be the key to your brand's success.
Create a Blog
Have you considered creating a blog for your online store? It's a great way to showcase your expertise in the niche you're selling in, and attract more people to your store.
With informative blog posts, you can engage with your target audience and establish yourself as a trusted source of information.
Plus, having a blog can improve your search engine rankings and drive more traffic to your website. It's a win-win situation!
So why not give it a try? With a little bit of effort, you could see a big difference in your online presence.
Utilize Video Content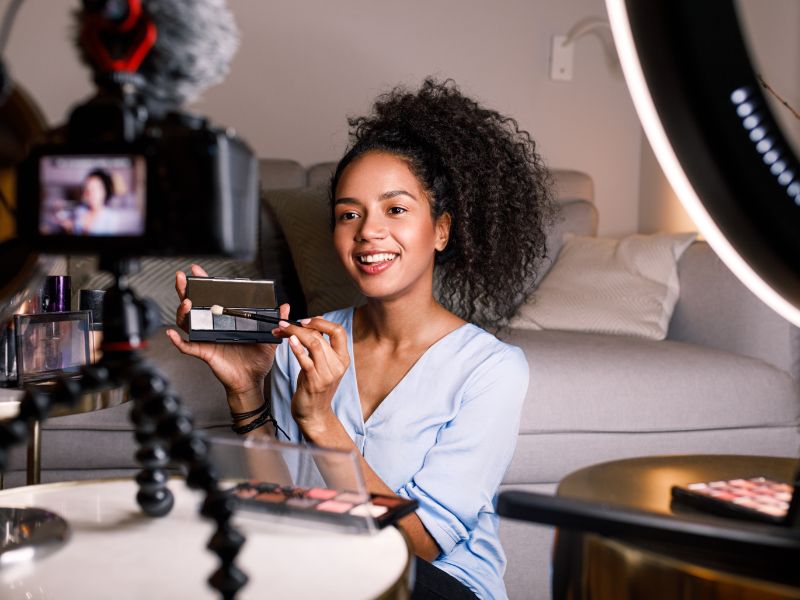 Use YouTube or other video platforms to create videos that showcase your products and share them on social media for maximum exposure.
You can also create tutorials, product reviews, or even behind-the-scenes videos to engage with your target audience and build a personal connection with them.
Video content is highly engaging and has the potential to go viral, so make sure to include it in your marketing strategy.
Collaborate with Other Businesses
Collaborating with other businesses can introduce you to a whole new audience and give you the opportunity to cross-promote each other's products.
Reach out to other businesses in your niche and offer to feature their products on your website or social media platforms in exchange for them doing the same for you. This way, you can both benefit from each other's existing customer base.
By collaborating with others, you can also share resources and knowledge, which can be incredibly valuable for growing your business.
Utilize Email Marketing
Email marketing is a powerful tool that allows you to reach out directly to potential customers and build a relationship with them.
You can offer exclusive discounts or promotions to your email subscribers, provide useful content, and keep them updated on new products or sales.
Building an email list may take time, but it is a cost-effective way to reach out to potential customers and keep them engaged with your brand.
Use SEO Strategies
Have you ever found yourself buried on page 10 of a Google search?
Let's be honest, no one has the time or patience to click through all those pages.
That's why implementing SEO (search engine optimization) strategies is so crucial for your online store's success. Investing time into learning how search engines work may seem overwhelming, but it will pay off in the long run.
By optimizing your website and incorporating relevant keywords, your store will rank higher in search engine results pages.
That means when someone searches for a product or service related to your store, they'll be more likely to find you. So embrace the power of SEO and watch your online presence grow.
Do some research on popular keywords in your niche and incorporate them into your website's content, meta descriptions, and product titles.
Additionally, regularly posting quality content on your website can help improve your search engine rankings and increase your visibility to potential customers.
Host Giveaways and Contests
Everyone loves free stuff, and hosting a giveaway or contest is a great way to attract attention to your store.
You can ask people to follow your social media accounts, share your post, or tag their friends for a chance to win a prize.
This not only increases your reach but also encourages user-generated content, which can help promote your brand through word-of-mouth.
Utilize Free Advertising
Take advantage of free advertising opportunities such as listing your products on online marketplaces like Etsy or eBay.
You can also submit your products to Google Shopping for free, and use hashtags on social media to increase your visibility.
While paid advertising can be beneficial, don't underestimate the power of free advertising in reaching potential customers and promoting your store.
Take Advantage of Forums and Online Communities
Get involved in forums related to the niche you're selling in and start sharing helpful advice about dropshipping.
If you're a dropshipper looking to expand your knowledge and presence in your niche, forums and online communities are the perfect place to start.
By joining forums related to your niche, you can connect with like-minded individuals who are also interested in dropshipping and share valuable advice and tips.
Not only does this help build your credibility within the community, but it can also improve your online visibility and potentially attract more customers. So why not take advantage of these forums and start sharing your expertise?
It's a win-win situation that can benefit both you and your business.
Giveaways and Contests
This is a great way to get people talking about your store while also attracting new customers .
Try partnering with complementary businesses for joint giveaways or contests to reach an even wider audience.
You can also offer exclusive discounts or promotions to your contest participants, encouraging them to become loyal customers in the future.
Conclusion
Promoting a dropshipping store for free may take some time and effort, but it is entirely possible with these strategies.
By utilizing social media, collaborating with influencers and other businesses, creating quality content, and taking advantage of free advertising opportunities, you can effectively grow your online presence and attract potential customers without breaking the bank.
Remember to stay consistent and be patient, as it takes time to see results from these marketing efforts.
With dedication and persistence, your dropshipping store can become a successful venture in no time. So go out there and start promoting your store for free!
If you need help with sourcing and fulfillment, Shipbear  can help.
Our platform streamlines the dropshipping process and offers competitive shipping rates for your products.
Sign up today and start taking your dropshipping business to the next level!